Receive notifications about new products and current specials
Featured Item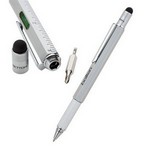 Graphica II Bettoni 5-in-1 Aluminum Pen ...
Twist-action ballpoint with textured metal grip, spirit level, 3" ruler, small Phillips and flathead screwdriver and a capacitive stylus that works with touch screen devices. Oxidation is required, on...
$13.99 - $19.99
Southern Sales and Marketing
Looking for promotional products?
Whether you are looking for a specific item or just browsing for ideas, our site is your one-stop shopping source. From fun items to the traditional, you can easily search for some of the hottest items on the market, and we are here for you 24 hours a day - 7 days a week.
When you find what you are looking for, please contact us so we can discuss your needs in greater detail, or use our shopping cart to submit your order - our secure check out makes it safe, easy and convenient. If you are just browsing, click on our 'request for more information' option and we'll get back to you.
Signature Showrooms